Discover Your True Inner Self... and Awaken the Power Within!
Active Consciousness named (along with The Power of Now) as one of
5 Spiritual books that will change your perspective of reality!
Check out these interviews of Amy about the relationship between homeopathy and synchronicity and the the teachings of Gurdjieff and other mystics that were filmed for a movie about consciousness -- Time Is Art.
Also: Amy's conversation with Charles Eisenstein: Synchronicity and the Impossible.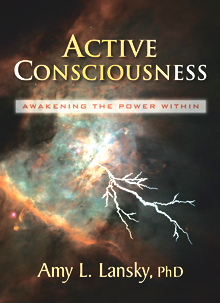 Can you create the future of your dreams? Are paranormal abilities like seeing into the future or affecting objects with your mind really possible? And how do energetic systems of healing -- like homeopathy and hands-on healing -- actually work?
In this exciting new book, former NASA computer scientist Amy Lansky, author of the best-selling book on homeopathy, Impossible Cure (www.impossiblecure.com), takes you on a voyage of discovery to your inner Self. Get ready for an exploration of the esoteric, grounded in an intriguing model of reality based on higher dimensions in space.
Active Consciousness: Awakening the Power Within is now one of the most exciting, far-ranging, and accessible books available on the topic of consciousness, spirituality, meditation, and the evolution of human awareness. Comprehensive, yet at the same time accessible and personal, this book invites you to not only learn about these mysterious subjects, but to develop the power of active consciousness for yourself. By including a series of exercises and experiments in meditation and self-inquiry, Active Consciousness provides an experience that will transform your life and help you evolve to a new level of awareness.